Best Braided Fishing Line Guide And Top 3 Review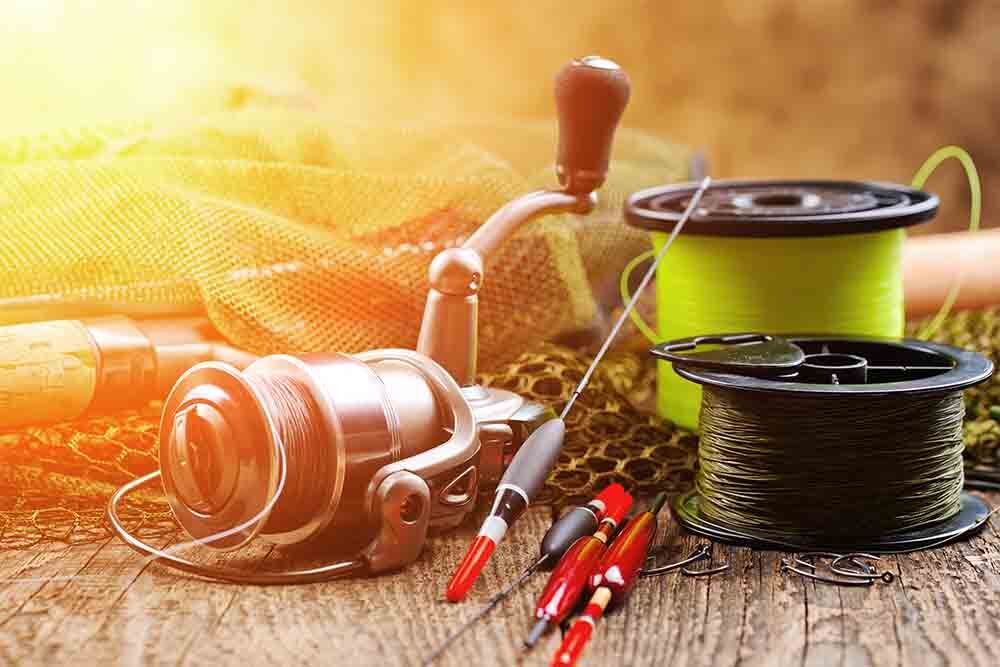 I first stumbled across braided fishing line in Australia about 10 years ago.
An Italian / Aussie friend of mine had always promised me some big fish if I ever made it to Melbourne and I finally made it...
At the time I was fishing fairly decent gear but my buddy John told me that standard fluro line was useless in the waters off Port Melbourne as the fish would tear it to shreds - think Giant Trevally and King Snapper and you get the idea. I spent a long time trout fishing with lures so a lot of this was new to me...
So off we went to the tackle superstore to take a look at the many types of fishing line available. At the time even the basic braided line was about 60 dollars a spool and the price sort of shocked me a bit as I was used to 'normal' fishing line prices.
Anyway after a bit of convincing I bought a spool of braided line for my baitcasting reel and we went fishing…
Best decision I ever made.
You see with fishing you can have good days and bad days. Fish not biting is one thing but when you do hook up the last thing you want is for you gear to let you down. You spend a small fortune on a rod and reel, all the money in the world on lures and jigs, so why not invest a bit in your line and avoid the dreaded snap off halfway through reeling in the fish of a lifetime.
Yes the are a plenty of options when it comes to fishing line and each serves a purpose but today I want to concentrate on braided fishing line and give you our view on the best braided fishing line on the market and why it should be your next purchase before you cast another lure into the water.
Best Braided Fishing Line - Our Top 3.
As mentioned earlier there are any number of options when it comes to braided line so we did our homework, plenty of research, testing and some expert reviews to bring you what we feel are the top three braided fishing line options available today in our braided fishing line comparison line up.
---
Suffix 832 Advanced Superline Braid - Top Choice
So what makes this our top choice:
One of the most advanced braided lines available Suffix 832 is a very high strength, small diameter fishing line. Backed by years of development and expertise in military applications this line is bulletproof.
There are three main feature that give this braided fishing line it performance characteristics:
R8 precision braiding and fibre technology give this line its strength, consistency and roundness.
The Dyneema fibres provide strength and allow for the small diameter of the line - perfect for loading up a spool for longer casting and deeper fishing.
The GORE fibre provides abrasion resistance, vibration and noise reduction and give you those much sought after longer casts.
The line is made up of a total of eight fires - The central GORE strand surrounded by 7 Dyneema strands giving this line un-matched strength in the market. The first thing you will notice as a fisherman about this line is the casting distance you can achieve. The round line literally flies off the spool and out into the water.
You will also notice the lack of stretch in the line and super sensitivity when a fish starts to take interest in your bait or lure. Even the smallest of bites are now noticeable and with the strength of this line strike your fish and away you go. No more unsavoury snap offs when reeling in that trophy fish.
The line is currently available in three colors; Ghost white, High-vis Neon Lime and Low-vis green and can be purchased in 150 yard and 300 yard lengths. You can also get a 600 yard spool in the low-vis green if you are hunting deep sea.
Given how thin this line is compared to standard mono line - 4 times stronger than a monofilament line of the same thickness you can really load up your reel. As with all braided lines we recommend adding some mono line backing to the reel first to avoid any slipping but thats up to you. I have seen other fishermen wrapping the bare reel spool with a bit of tape before they load up the braided line for the very same reason.
8 Fibers (Featuring one GORE® Performance Fiber and 7 Dyneema® Fibers)
Ultimate Abrasion Resistance
Proven Castability Improvements
TGP(TM)Technology Enhances Color Retention
Is it worth the money - definitely. From a price point this braided line is very reasonable and does exactly what you would expect from a quality company like Suffix. Super strong, super sensitive and great value for money.
SUFIX ADVANCED 832 BRAID
Here is a quick overview video showing the GORE performance fibre in action and what it means to the shelf life of your braided line.
---
Power Pro Microfilament Braided Line
Made in the USA Power Pro braided line is unbelievably strong because of it's braided spectra fibre makeup. If you are into lure fishing and like using very thin but super strong line then this is the best choice for you.
Round, smooth, and sensitive braided fishing line
Enhanced Body Technology (EBT) boosts handling performance
Constructed with Spectra fiber for incredible abrasion resistance
Spool your reel straight fro the box with the EZ spool system
High strength-to-diameter ratio
The line is currently available in three colors; Moss Green, High-vis Yellow, Vermilion Red and can be purchased in 150 yard up to 1500 yard lengths.
Fishing with PowerPro line is just like using standard mono line in terms of ease of use but with a raft of advantages. One great point you will notice is the line doesn't bury itself in the spool after a good workout or a hard strike.
POWERPRO BRAIDED LINE
This line is also super sensitive so if you are chasing fish with 'delicate' bite patterns then you are good to go. The thin round and smooth profile of the line lets you really load up your spool and you will be amazed at your casting distance when you first use it.
---
Spiderwire Braided Stealth Superline - Great Choice
If you forced our hand we would say that Spiderwire Braided Stealth Superline is the best braided line for the money. Spiderwire has been around for a long time and their brand has a great name in the industry. The first spool of braided line I bought that day in Melbourne was actually Spiderwire - great to see the prices have dropped over the years too…
The line is coated with a Fluoropolymer which helps it glide through rod guides easily and gives you a quiet and very fast cast action. Because this line is so much thinner that other braids and traditional line you can get a lot more on your reel.
New and Improved Up to 30% Stronger
Ultra-thin, tight weave construction
100% Dyneema PE microfibers
The line comes in various colour options:
There are multiple line size options available from 6lb lightweight gear right up to 100lb line if you are chasing monsters in the deep. Rig it up with a mono leader and a decent lure and you will never look back.
Because there is pretty much zero stretch on the spiderwire braided fishing line it is perfect for lightweight fishing or detecting very sensitive bites and to be fair it's probably the best saltwater fishing line I've ever used.
SPIDERWIRE STEALTH SUPERLINE
Below is a great video showing how to spool up your Spiderwire Stealth Braid.
---
How To Use Braided Fishing Line
Spooling Braided Line
First up lets take a look at spooling up your braided line and there are a few things to look out for straight away to avoid issues when you hook into a prize winner...
A lot of folks will put a bit of tape around the arbour of their reel to stop the line slipping. Braid is very thin and sometimes quite slick so make sure to either use a bit of tape or perhaps use some mono backing on the spool first. This helps the line sit nice and even throughout the spooling process.
This is not really a problem for newer type reels as most come with a rubber backing on the arbour so no slippage issues there.
A couple of knots you are going to need here are the arbour knot for joining the mono backing to the reel and the uni to uni knot for tying the braid line to the mono line.
Arbor Knot - Fixing Backing line to reel spool
Uni to Uni Knot - Braid to mono line knot
These two knot are all you need to get you line setup for spooling. Using the mono backing is probably the best way to add braided line to your reel - unless of course you have a shiny new one that comes with a rubber arbour.
Best knot for leader to braid lines
When tying your mono leader to your braided fishing line you are going to need to use the Albright or improved Albright knot. Rock solid knot that is easy to tie with a bit of practice. If you want to tie yourself an awesome knot then you should go for the FG knot.
This braided fishing line knot takes a bit of effort to get right but once you get the hand of it you will never use anything else. Rock solid and clean on the line it's one of our favorite ways to join braided line to monofilament line., especially on our leader setup.
Cutting Braided Line
One quick tip is you should have the right tools for cutting your braided line. Braid is a lot different to standard fishing line so when you need to cut it make sure your scissors or line cutter is up to the task.
This Boomerang Snip Braid cutters is ideal for cutting braid. Very handy tool that clips onto your belt or shorts and has a retractable tie so it's always close at hand. You can always use a decent nail clippers as well. Make sure it's sharp though or you will end up with frayed ends on all you knots...
Braided line in clear water
One issue we often see with braided line is when the water is very clear you might spook the fish. As design and innovations have moved forward this is not really a problem any more. Because the line is so much thinner than mono and it comes in such a wide variety of colors you are covered. Couple this with the fact that you are going to be fishing a mono leader anyways you have nothing to worry about.
---
Benefits of fishing Braided line
Compared to fluorocarbon and monofilament line Braid has a much small line diameter so you fit more on your spool. For example a 20lb braided line is the same thickness as a 6lb mono line but with a lot more strength and there is no doubt about it, using braided fishing line on your reel gear is unmatched in terms of performance in the field.
One of the things you notice straight off the bat with braided line is how sensitive it is. Because it doesn't stretch of hold it's memory you can detect even the most delicate bites, even in deeper water. Plus because of the thin line diameter you won't be as effected by line drag in stronger currents either. If you are lure fishing you will know exactly what is happening at every stage of the return and when fishy decides to take a lump out of your lure you know it's game time...
I mentioned casting distance earlier in this post but you will understand why when you take your first cast with braid on the spool. The smooth slick rounded lines are engineered to cast further.
Strength of the line is another factor to consider when fishing braided fishing line. If you are used to fishing rivers and lakes full of debris and heavy cover or seas full of heavy weed and rocks then you will probably save yourself the cost of the new line on your first few fishing trips. The only thing you may have to do to your line is trim of the end every so often for general wear and tear.
---
Summary
That's it for this review on the best braided fishing line. We hope you found it useful and can now make an informed decision on which brand is the best braided line for your next fishing adventure. If you are unsure about what fishing line to use next time you are stocking up then why not try out braided line. You will be glad you did.
Tight lines - with braid on the spool, they always will be...
Happy fishing.
https://rodreelguide.com/wp-content/uploads/2016/08/braided-fishing-lien-review.jpg
667
1000
Rod Reel
https://rodreelguide.com/wp-content/uploads/2018/11/rrg_logo3.jpg
Rod Reel
2016-08-30 14:55:03
2018-11-15 14:17:03
Best Braided Fishing Line Guide And Top 3 Review