Best Fishing Reels – The Ultimate Buyers Guide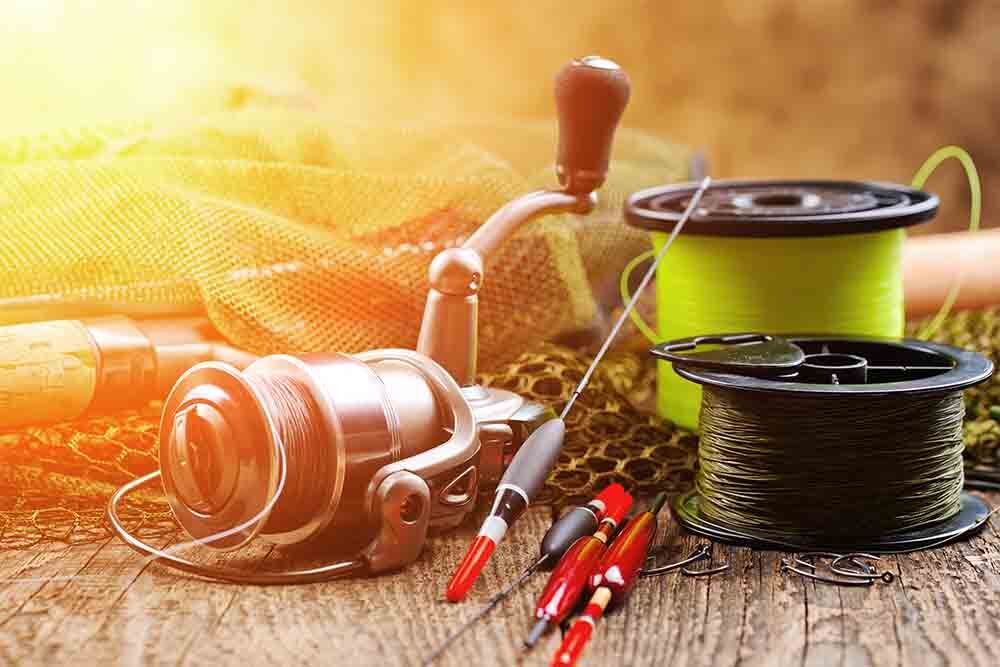 Are you into fly fishing, baitcasting, lure fishing or deep sea fishing?
Whichever your chosen path, you are going to need a reel.
And a solid reliable one at that...
Technology in general changes at a massive pace. Fishing technology is no different. Looking back my first few reels were very basic. No multiple sets of ball bearings, no advanced drag system and a bait runner setup were never heard of - unless you hooked a huge fish and it whipped your rod and reel into the water and you had to go running after it...
Can you still fish effectively with old technology - absolutely - but why not give yourself the best fighting chance by utilising some more modern tech to give you a helping hand. You still have to understand the fundamentals of fishing and have a solid technique to hook and land you catch but why make it hard on yourself.
Best Fishing Reels
The aim of this review is to provide you with a guide to the best in class in each of the fishing methods to save you time trawling through hundreds or even thousands of reviews. We fish all the time. We fish every different method and we love our gear. Take the guesswork out of your next choice of fishing reel with this review. You will be glad of the time saved because you will be out fishing instead of researching - we did it for you...
This review is broken down into reel type and a top three in each of the categories with a budget, mid-range and high-end best in class fishing reel. Let us do the research you get out there and catch some fish.
If you are just here to find the best fishing reel and haven't the time to read our in-depth reviews then we have highlighted our top choice reel in each category below. If you click on the reel name you will jump to that review or just hit the check price button and you will go straight to the best deal we could find at the time of writing this review.
Best Spinning Reels
Sale
KastKing Sharky II Fishing Reel - Smooth Spinning Reel - 48.5 Lb Carbon Fiber Max Drag - 10+1 Superior Ball Bearings-Brass Gears at an Affordable Price!
FIERCE NEW DESIGN – A fantastic must have spinning reel with new and improved body, rotor, spool and gears that is lighter and stronger for spectacular casting, less fatigue, and durability. KastKing Sharky II spinning reels offer the best value with more features for the most bang for your fishing buck!
BUTTER SMOOTH 10 + 1 corrosion resistant MaxiDur bearings, increased strength precision mesh brass gears, and stainless-steel shaft adds to this fishing reels super slick retrieve and toughness when battling big fish.
POWERFUL- Use the Sharky II spinning reel with up to 41.5 lbs of triple disc carbon fiber max drag capability to conquer monster fish! New designed CNC aluminum spool with better line-lay and more line capacity features lube retention grooves for longer life and smooth, fluid yet powerful operation. A true bulldog of a fishing reel.
VERSATILE: Perfect for freshwater bass fishing, trout, perch, salmon, pike, catfishing and even saltwater surf fishing (Recommended only on 6000 size and above).
AFFORDABLE INNOVATION: Amazing water intrusion resistance system, sealed rubber o-ring spool, shielded one-way clutch, creative body lube retention grooves, helps prevent water and dirt from getting into your fishing reel. Fish all day and all night without worry. Backed up by a one-year warranty.
PENN Battle II Spinning Inshore Fishing Reel, Size 4000 (BTLII4000) HT-100 Front Drag, Max of 15lb, 6 Sealed Stainless Steel Ball Bearing System, Built with Carbon Fiber Drag Washers
PENN BATTLE II SPINNING INSHORE REEL: The PENN Battle II offers aesthetically pleasing design, durable performance and an attractive price point as just a few of the many reasons why so many anglers fish this reel.
DURABLE CONSTRUCTION: Full metal body, sideplate and rotor help to maintain precision gear alignment in the toughest battles. Features a sleek Black/Gold/Smoke design.
SMOOTH, EFFICIENT GEARS: Recovers at the rate of 37" | 94cm with every turn of the crank. Gear ratio of 6.2:1. Right/left handle position for all anglers. Size 4000 reel.
6 TOTAL BEARINGS: The Battle II fishing reels feature 5 sealed stainless steel ball bearings plus one instant-anti-reverse bearing, providing fast hook-ups.
HT-100 FRONT DRAG SYSTEM: Built with carbon fiber drag washers for a max drag of 15lb | 6.8kg, this system will exhaust the fish without wearing you down. Mono Capacity yd/lb: 270/8 220/10 165/12. Braid Capacity yd/lb: 360/15 260/20 185/30.
Best BAITCASTING Reels
Abu Garcia Revo SX Low-Profile Baitcast Fishing Reel, High Speed, Right Hand
Ultra-lightweight design with X2-Craftic alloy frame and C6 carbon side plate--25% lighter than the previous generation
MagTrax brake system and wide Infiniti II spool design for accurate casting of heavy loads
Carbon Matrix drag system provides smooth and consistent drag
D2 Gear Design provides efficiency while Duragear gear system and titanium-coated line guide ensure long-lasting durability
Extended bent cranking handles and power knob offer added torque for hard-pulling fish
Shimano Spinning Reel - Best Budget Spinning Reel
Put simply the Shimano spin clam reel is the best budget spinning reel money can buy.
The reel can handle braid line as well and the model we looked at IX-2000 is perfect for normal fishing.
Strong enough to handle decent sized fish but light enough to not tear your arm out.
The gearing system is smooth as it the overall reel action.
The handle is reversible so you can fish either right or left-handed no problem.
This is a great beginner spinning reel but would let you down as a seasoned angler.
While not the best spinning reel out there it certainly stands up to the best of them - especially at this price. Would I buy one? Have one in my tackle bag. Would I recommend one? For sure. Even if it's not your everyday or go-to reel you should definitely stock up with one as this is the best value spinning reel out there.
A great added feature of this reel is the quick cast system. Simply press the button on the side of the bail arm and it auto-magically opens the bailer ready for your next cast. This is especially handy if you are lure fishing or spinning and are constantly casting and retrieving at a rapid pace.
A quick twist of the handle and the bailer snaps shut. If you are into kayak fishing this is a great feature as you can do a lot of your fishing with one hand...
Price - Unbeatable reel for this price
Action - Very smooth reel
Quality. Shimano makes great reels
---
Kastking Sharky II - Best Mid Range Spinning Reel
Next, we take a look at the awesome Kastking Sharky II spinning reel. A bit more expensive than the Shimano but it comes with a host of great features and represents super value for money.
So why does this reel feature on this review? Let's break down some of the main features first to give you an idea of why.
Reel come complete with a massive 10 +1 shielded stainless steel bearings giving it a super smooth action
It has a triple carbon fibre drag system which will probably outlast us all.
The high capacity machined aluminium spool is ultra light but very strong.
The Sharky is a great all rounder reel. Suitable for both freshwater and saltwater if you are looking for value then this is the reel for you. Strong enough to haul in very large fish but light enough to fish with all day.
What size reel should you go for?
The Sharky II 1500 will hold up to 165Yds of 6lb, 110Yds of 8lb line and 75Yds of 10lb line.
The Sharky II 2000 will hold up to 155Yds of 10lb, 140Yds of 12lb line and 75Yds of 14lb line.
The Sharky II 3000 will hold up to 160Yds of 12lb, 140Yds of 14lb line and 80Yds of 16lb line.
The Sharky II 4000 will hold up to 185Yds of 14lb, 165Yds of 16lb line and 125Yds of 20lb line.
The Sharky II 5000 will hold up to 210Yds of 16lb, 185Yds of 18lb line and 165Yds of 20lb line.
The Sharky II 6000 will hold up to 215Yds of 22lb, 180Yds of 25lb line and 160Yds of 30lb line.
Price - Superb value for money
Action - Very smooth reel
Options - Range cover every type of fishing
Reports of bail arm snapping shut unexpectedly at times causing lost tackle during casts.
---
Penn Battle II - Editors Choice Best Spinning Reel
When it comes to our choice for the best spinning reel we have to pick the Penn Battle II.
This super smooth reel has a great drag system and is a very solid unit.
From it's fast retrieval to it's smooth action it is very hard to beat.
Spool this up with some braided fishing line and pair it with an Ugly Stik and you have a rod and reel combo that is going to be very hard to beat.
The reel sports an instant anti-reverse system and doesn't suffer from any back creep whatsoever.
The Penn Battle is a bit heavier than most in it's class but all is forgiven because of the quality of this reel. Yep, it costs a small bit more than the rest of the reels mentioned above but in my eye's it's worth every dollar. If you are serious about your gear then you should get yourself a Battle II before you head out again...
Quality - As good as any high-end reel
Action - Very smooth reel
Instant anti-reverse system
Superior drag system
Some chatter about the weight of this reel but hey it's a Penn. Well built and made to last.
---
Piscifun Tuned Low Profile Baitcaster
The Piscifun Baitcaster Reel gives you a great low profile design.
Made from CNC machined high-grade aluminium this reel is very light but also very strong.
Featuring a 6.3:1 gear ratio system that gives you a very smooth and exceptional baitcasting action.
As a brand that was relatively unknown to us, this really is a great baitcasting reel for the money.
If you are looking for a cheap but durable baitcasting reel then the Piscifun baitcaster is perfect for you. Utilising 1 roller bearing and a whopping 13 stainless steel ball bearings this reel delivers a long smooth action cast every single time.
The magnetic brake system allows you to fine tune your cast based on your lure weight. Set it up when you first tie on and fish away all day without having to tinker with anything - This is a great feature in my eyes because anything that allows me to fish for longer wins...
It has a sleek and cool looking low profile design and comes with a low noise gear structure so you ain't going to be spooking the fish while you grind away...
Quality - As good as any high-end reel
Action - Very smooth reel
Superb Magnetic Brake System
Strong & Durable
As good as any high-end reel
---
Kastking Stealth Baitcasting Reel - All Carbon Design
The Kastking Stealth weights only 6 ounces so if you are looking for something ultra light - look no further.
A great reel for all types of fishing - frogging, flipping, pitching, punching, Alabama rigs.
Pair the reel up with some 8lb braid and away you go.
If you are looking for distance casting the first thing you will notice about the Kastking is exactly that. The line literally flies off the spool.
One thing to watch out for with this reel is the speed at which the spool spins when casting. It can be prone to backlashes if not adjusted properly. Once you get the setup right though you are in for a treat. How they can make a reel of this quality for the price is beyond me.
The stealth has a 16.5 lbs drag system coupled with 4 carbon disks and hardened aluminium washers that give this reel unbelievable drag power.
The action is smooth as silk with the 11 ball bearing system. The one way clutch system delivers lightning fast hook sets every time and helps deliver the smooth reel performance.
The reel itself is 100% corrosion resistant and because its made of carbon fibre it only weighs 6 ounces.
Weight - 6 ounces
Action - super smooth and fast
Anti-corrosion carbon fibre makeup
Not really an issue but make sure you setup drag properly before you go whipping lures into the water.
---
Abu Garcia Revo SX- Editor's choice Baitcaster
Now here is a baitcasting reel you can rely on. Easy to use, great build quality and superb action.
The Revo SX has to be the best reel on the market in this price bracket. Hands down the best you could fish with actually.
It is very easy to use and can be tuned in a matter of seconds to suits you lure or fishing style.
Comes with a hefty 20 lbs of drag so make sure it's dialled in or you will break off your line before this gives in.
Wonderful smooth action and overall our top choice baitcasting reel to date.
The new Infini II spool design improves casting performance over previous models and the Carbon Matrix ensures smooth, consistent drag pressure when hooked into the hardest fighting fish. By adjusting the MagTrax braking system you can ensure consistent drag pressure from start to finish.
As mentioned in previous posts we prefer to fish with braided line and by setting this reel up with some high quality braid you are equipping yourself with a reel combo that is hard matched by much more expensive models.
Made using the highest quality components
Professional grade fishing equipment
Tested for durability and quality
9 High-Performance Corrosion Resistant bearings plus 1 roller bearing provides increased corrosion protection
C6 carbon body provides significant weight reduction without sacrificing strength and durability
D2 Gear Design provides a more efficient gear system while improving gear durability
Compact bent handle and star provide a more ergonomic design
Ti coated line guide reduces friction and improves durability
Designed for ease of use and comfort this low profile baitcasting reel is one for your tackle bag. We had no intention of reviewing very high-end expensive reels as part of this review because this reel has you covered - without the hefty price tag.
Price - Nothing can touch this reel.
Action - Comfortable, sturdy and smooth
Quality - Perfect high end reel from Abu
---
So that's our review of the best fishing reels so far. We will be adding in Fly reels and some other models over the coming weeks so stay tuned for more.
Tight lines folks.
https://rodreelguide.com/wp-content/uploads/2016/08/braided-fishing-lien-review.jpg
667
1000
Rod Reel
https://rodreelguide.com/wp-content/uploads/2018/11/rrg_logo3.jpg
Rod Reel
2016-11-01 15:41:44
2020-09-22 10:56:09
Best Fishing Reels – The Ultimate Buyers Guide