Reel Grips for your Baitcasting and Spinning Reels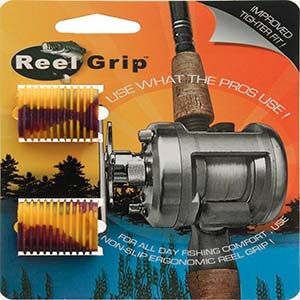 Have you ever lost a fish because your hand slipped off the reel handle.
Sounds like a great excuse for losing an award winning fish - the one that got away etc..
But it does happen.
Fishing in wet conditions or on a boat where the swell splashes up over the bow will cause your gear to get wet and in most cases this means the grips on your reels - regardless of model or type will also get wet and slippy.
Reel Grip have come up with an ingenious way to prevent slippage and for the cost involved you would be mad not to invest in at least one set.
The original idea came about by avid Bass angler Mark Schull in 2005 who partnered with Dan Broadbent and Angelo Savakis to develop the idea and bring it to market. Reel Grips were first launched at the Bassmaster Classic in Pitsburg and the company have grown in strength since that day.
Originally designed for baitcasting reels the company have expanded their range of reel grips to give you the edge on multiple reel types.
Baitcaster Reel Grips
Spinning Reel Grips
Reel Grip also make grips for spinning reel handles - The Reel Grip X is the latest in their line of innovative products to help you on your quest for superior fishing.
Reel Grip X, Red
Fishing reel handle cover
The latest fishing tackle accessory
Adds comfort and grip to your existing reel handles
Made of a soft rubber composite
Easily slide over your existing bait cast reel handles
Sure you may still loose fish, but it won't be because you hand slipped off the grip of your reel handle.
Check out a few videos by guys using these to give you an idea of the advantages of using grips on your baitcasting and spinning reels.
Installing Reel Grips
Installing Reel Grips is very straightforward. Use a damp rag to wet up your reel handles and simply slip on the grips.
Advantages of Reel Grips on your Baitcasters
Here is another video showing a quick advantage of using reel grips on your various baitcasters. If like me you have several similar setups - similar rod and reels with different line etc. then a great way to differentiate each setup is to use various coloured grips on your baitcasters. That way you know straight away which is which. I tend to fish different line strength for certain lures and this is an easy way to quickly see whats what.
So there you go... A nice neat upgrade. Add some reel handle grips to your baitcast reel or spinning reel and off you go.
Happy fishing...
https://rodreelguide.com/wp-content/uploads/2017/01/baitcast-reel-grips.jpg
300
300
Rod Reel
https://rodreelguide.com/wp-content/uploads/2018/11/rrg_logo3.jpg
Rod Reel
2017-01-02 14:01:34
2019-09-30 05:50:03
Reel Grips for your Baitcasting and Spinning Reels